Quick note: Nuggets will return
I'm a huge fan of The Beatles and whilst I'd wanted to leave a retrospective of their records until I'd done a few more retrospectives, I don't think I can restrain myself, frankly. At the moment I'm reading Ian MacDonald's brilliant book Revolution in the Head which walks you through every single one of the band's songs, in the order in which they were originally recorded. MacDonald does a great job of not only framing the records within the socio-political context of the time in which they were made but he also gives a fantastic level of insight into how any given song fits in with the rest of what was going on in music at that time or shortly before – it's a fascinating read and I'd thoroughly recommend it to anyone interested in the band. With work like MacDonald's around, there's not a lot that can be said about the greatest band in history that hasn't already been said, often far more succintly and elegantly than I ever could.
But like MacDonald, I'm going to focus determinedly on the music, and as little else as possible. As ever, this is going to be a deeply personal look at each of the albums, concluding with my feelings as to how they rank up against one another. Whilst most people's favourite is often either Sgt. Pepper's, Abbey Road or Revolver, everyone has their own feelings about the relative merits of the components of this astonishingly wide-ranging, ambitious and crucially – consistent discography… these will be my own thoughts. Similarly, everyone seems to have fascinating different views about which of the band's songwriters was superior – personally, I have always predominantly been a McCartney man, being a big fan of his rarely-faltering optimism and especially some of his oldy-worldy genre pastiches, although that's not to say that some of Lennon's and Harrison's stuff don't get me going as well.
I've divided this retrospective into three parts, of which this is the first. It covers the first four UK studio albums (the 1963-64 "early" period) as listened to using the new 2009 masters. Part II will cover the 1965-67 "middle" period and part III will cover the "late" period from 1968-70. I'll be looking at all twelve proper studio albums, plus Magical Mystery Tour and Yellow Submarine and at the end, as usual, I'll rank the albums in my order of preference and recommendation.
Without further ado…
#1: Please Please Me (March 1963)
It rarely seems to rank as anyone's favourite, but Please Please Me is undoubtedly a stunning album. To many people, it represents the ultimate distillation of rock and roll of the early 60s, and at any rate it's a fascinating document of the band's sound especially because, according to those who saw the band in the flesh, much of its content reflected the band's early and apparently thrilling live sound. Consisting almost half-and-half of covers and Lennon/McCartney originals, the album sounds formative and you can tell that it was essentially made in a day, but that makes it all the more absorbing.
Underrated classic for me is "There's A Place", which to me sounds way ahead of its times in lyrical terms, with a brilliant melody and great vocals from both Lennon and McCartney, especially the line "…and it's my mind…". Other things I notice include the amusingly OTT sounding piano flourishes by George Martin on "Misery", the kind of heavy-handed work which rarely appears on Beatles records. Clearly this is very much a formative album, and yet it's far more consistent than most debut albums, and generally the covers and originals work equally well. The likes of the archetype teen song "I Saw Her Standing There" (one of several such "juvenile" early Beatles tracks which exuded a slightly risqué feel, in fact) mean that Please Please Me is full of historically significant and entertaining classics. To some modern ears, this debut album is too old-fashioned to be enjoyable, but I like it's distinct feel more than…
#2: With The Beatles (November 1963)
I've always much preferred Please Please Me to the second record The Beatles put out in 1963, the slightly workmanlike With The Beatles. Listening to it, it seems to me that this album has a fairly rushed feel, and it was recorded only four months after the last one. The album has a harder, rockier sound which I don't think benefits it  – its chaotic percussion on songs like "I Wanna Be Your Man" have their appeal, but they preclude the kind of glorious clarity of elements like the harmonica on the previous album.
I don't think there's anything on With The Beatles that matches the singles that the band released around the same time, especially "I Want to Hold Your Hand", released about a week after the album but not appearing on it, as was normal at the time. The album suffers from some other unfortunate factors set against it, such as having a song which directly contradicted a later, superior one ("Money (That's All I Want", a cover of a song by Barrett Strong), a slightly lacklustre cover of Chuck Berry's "Roll Over Beethoven", and a moody, downbeat cover, which reflected Harrison's first song on a Beatles album, the rather curmudgeonly "Don't Bother Me." For me, this is the weakest of the early albums, bookened by records which were much better, and more historically significant into the bargain. The energy on these songs is impressive, and at any rate – this is The Beatles, so the album is great. But it isn't great by Beatles standards, to these ears.
#3: A Hard Day's Night (July 1964)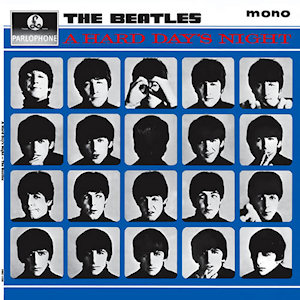 That hugely famous "mighty chord" which starts the title and opening track on album #3 just says it all – A Hard Day's Night starts, using it, in a gloriously exciting fashion, as hard as the previous album but more effectively so. In a radical move, the album doesn't contain any covers but instead has 13 solid Lennon/McCartney numbers, which in actual fact are dominated greatly by Lennon.  My favourite moments, aside from the big songs (the title track and "Can't Buy Me Love", which is of course the song which contradicts "Money"), are "I'm Happy Just to Dance With You", which is among my favourite earnest Harrison-sung numbers, and the bizarrely high-pitched line in "Tell Me Why".
Not a spectacular Beatles album, containing few out-and-out classics, A Hard Day's Night is nevertheless a superior piece of work to With The Beatles, and a solid set of songs made more impressive by virtue of not featuring any covers at all. To me, this album and With The Beatles are the consolidating albums, the ones which facilitated Beatlemania (along with concurrent singles) but which weren't really instrumental in turning the band into a world-changing outfit. By contrast, the following Beatles For Sale sounds to me to be rather less consistent but containing more impressive individual songs in several key cases, songs which push the envelope more than any on A Hard Day's Night. Nevertheless, this album was a significant step forward, which did play its part in paving the way for what was to come.
#4: Beatles for Sale (December 1964)
I've got a real soft spot for Beatles for Sale, but quite a lot of people seem less than fond of it, which I've always been a bit perplexed by. Yes, it has "Mr. Moonlight" on it, which is widely despised and admittedly, a bit awful. Also, it features a dramatic return to covers, of which it contains six out of its fourteen songs. Those covers, I feel, are the album's weakness – but, Lennon and McCartney's songwriting was stronger on the whole in late '64 than it had been up to that point.
Examples include the wonderfully understated "I'll Follow the Sun", quite a sad little number but a favourite of mine. Then there's the opening Lennon pairing of "No Reply" and "I'm a Loser" which displays a major leap forward in songwriting seriousness and achievement, and open the album with a real signal that things have changed in Beatle-land. I feel the strongest part of the album though, is the masterful little trio of "Every Little Thing", "I Don't Want to Spoil the Party" and "What You're Doing", which are among the best three tracks strung together on any Beatles record, and surely the best of the early period. The joyous "Every Little Thing" is absolutely wonderful, an example of McCartney really coming into his own. It's those four songs which bookend "Eight Days A Week" in the album's core which let it down somewhat, but aside from those, Beatles For Sale is among my favourite early period Beatles records, and signals the start of much of their ambition.
—
Very few people rank one of the first four records as their favourite, but there's no doubt that there's a huge amount of musical progress being made across them. I think what unifies these albums into being the "early" period is their comparitively large number of covers (although Help! the first album of my "middle" period, is the last to really feature covers) and the fairly strict adherence to a beat-heavy electric rock and roll sound. It was only during the middle period with the likes of Revolver that The Beatles helped pioneer "rock" as opposed to "rock and roll" which dominates these early records. Similarly, there's very little acoustic work on these early albums, which would become more prominent after Help! In part II we'll look at the albums which to me, really turned The Beatles into the band they are remembered as.